Happy Holidays from Wine and Romance
Holiday Shopping made easy! We will be glad to take your order over the phone, gift wrap your purchase, and enclose a gift card. Free delivery to Depoe Bay and Gleneden Beach area only. We will deliver on Christmas Day, but you must order by Dec. 24th! We're open 7 days a week, except Christmas Day! Call 541-764-0238 between 10-5pm! We are open until 6pm on Friday and Saturday.
Important: This page was in 2008. Wines of Oregon posts free web pages as a courtesy to those businesses involved in the Oregon wine industry.
MOONSTRUCK ANNOUNCEMENT: Moonstruck Chocolate Co. is pleased to announce that Chef Julian Rose, the company's master chocolatier was named to Dessert Professional magazine's first annual list of Top Ten Chocolatiers for North America. The 2009 Top Ten Chocolatiers list will be featured in the December issue of Dessert Professional magazine. The recipients were recognized at an awards ceremony taking place at the 12th annual New York Chocolate Show on October 30th, 2009.
W & R SUPPORTS DEPOE BAY PACIFIC SEA LIONS CLUB. On October 4th, we volunteered at the Pacific Sea Lion's 1st Annual Golf Tournament at Salishan Golf & Spa Resort and helped raise $1500 for community projects. On November 14th, Darcy and Ruth participated in a 2 mile walk across the Alsea Bay Bridge for Diabetes Awareness. W & R donated t‐shirts for the team. Lately, we have been selling poinsettias (130). 400 total were sold and the money raised will benefit the Christmas Food Baskets for the needy. On December 18th, we will help assemble the food baskets. The PSL storage trailer was recently damaged by a fallen tree, and is not repairable. An 8 x 10 shed will need to be purchased to replace the trailer andmoney will need to be raised to cover the unexpected expense.
W & R visited Dobbes Tasting Room, just one block south of Hwy 99W in Dundee (see photo). We were treated to some fine wines! You'll find the 2007 Pinot Noir GAC $29.50 & 2005 Syrah GAC $24.50 at W & R.
FAMILY NEWS: Jason Zerbel, our son, is settling in at the coast and has been helping us at the shop. In the photo, Jason is serving cake to a customer at our 1st Anniversary Open House. Jason hopes to move to Portland soon and enroll in Portland State University's Master's Degree Special Education Teaching Program. Wes and Janel Keener, our son‐in‐law and daughter, are expecting a baby girl December 12th. We will be traveling to Sacramento to see our 1st grandchild, Ashley Keener, very soon! Judy and Jason will be here to help you with all your holiday shopping at W & R, while we are getting to know our grandchild.
---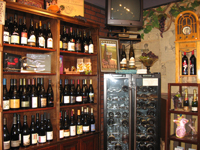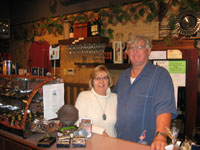 ---
NEW WINE PRODUCTS:
Holiday Drink ‐ Made in Oregon Nog, Willamette Valley Vineyards. This delicious mulled wine is a result of a festive collaboration of wine, raspberry and cranberry juices, with a hint of cloves and spices. Serve it chilled with food or as a mulled wine at a holiday party at work or at home. $12.25/bottle
Holiday Drink ‐ Gold Medal Winner SeaMist Cranberry Wine, Cran‐Raspberry Wine, Cran‐Blueberry Wine from Bandon, Oregon. Add it to sparkling wine/champagne for a Cran‐mosa. $18.50 ‐$21/bottle
Celebrity Wine ‐ 2009 Norma Jean Young Merlot. Marilyn is a real beauty sitting on top of the world! Only 6 bottles ordered! Call and order yours today! $16.50/bottle
2006 Torii Mor Reserve WV Pinot Noir. Winemaker, Jacques Tardy, says this wine shows elegance and balance and will cellar well for 8‐10 years. The label art by Janice Griffin is called Deux Verres, meaning two glasses, in French. Only 3 bottles left! $57.00/bottle
2007 Caymus Napa Valley Cabernet Sauvignon, Caymus Vineyard, Rutherford, CA. Full bodied wine $79.75
2008 Pascual Toso Malbec, Maipu, Argentina. One of Wine Spectator's "must have's from the Mendoza region. Medium bodied wine. Enjoy with pasta, red meats and white meats in light cream sauces. $13.50
---
NEW WINE ACCESSORIES:
Vinomatico – This cordless rechargeable corkscrew removes natural and synthetic corkscrews with a touch of a button. A great Holiday gift for friends and family. $49.00
Holiday Happy Hour Glasses: Santa Baby, Frosty Swirl, Peppermint Twist, and Holly Berries Handpainted wine glasses $23.00/glass
Engraved "Got Wine?" Pewter Bottle Stopper $9.95
My Glass Suction Cup Charms (wine charms and holiday snowflake charms)$12.95
Santa, I can explain… $8/50 beverage napkins. All other Napkins ‐ $5/pack
LOTS OF HOLIDAY WINE BAGS TO CHOOSE FROM! From $2.25 ‐ $6.50/double bag
---
NEW MOONSTRUCK PRODUCTS:
Holiday seasonal truffles are HERE! Ivory chocolate lovers will find plenty to choose from: polar bears, seals, candy cane, snowmen! Who can resist the milk chocolate penguins ($3.50)? We have pre‐packaged 4pc or 9 pc collections. Or, you fill a 2pc, 4pc, 6pc, 9pc or 16 pc custom box with truffles from the display case. And for the ultimate gift ‐ the Advent Calendar! (I got one for my birthday yesterday!) $60/24 pieces
Fall seasonal chocolate truffles: pfeffernuse spice, harvest almond praline, pumpkin pie, and molasses plantation caramel. $2.50/each
Fall seasonal chocolate truffles: pfeffernuse spice, harvest almond praline, pumpkin pie, and molasses plantation caramel. $2.50/each
---
Wine & Romance
7755 Hwy 101 N.
Gleneden, OR 97388
e-mail